Part of a historic six-story apartment building in Davenport, Iowa, collapsed Sunday, triggering the rescues of seven people and injuring an unknown number of others, officials said.
Concern over the possibility some could be buried in the rubble remained Sunday night as a secondary search of the property was underway, city officials said at a news conference.
The collapse just before 5 p.m. may have caused a large natural gas leak and water to leak from each floor, Davenport Fire Chief Mike Carlsten said.
"A portion of the rear building had actually collapsed, separated from the building," he said.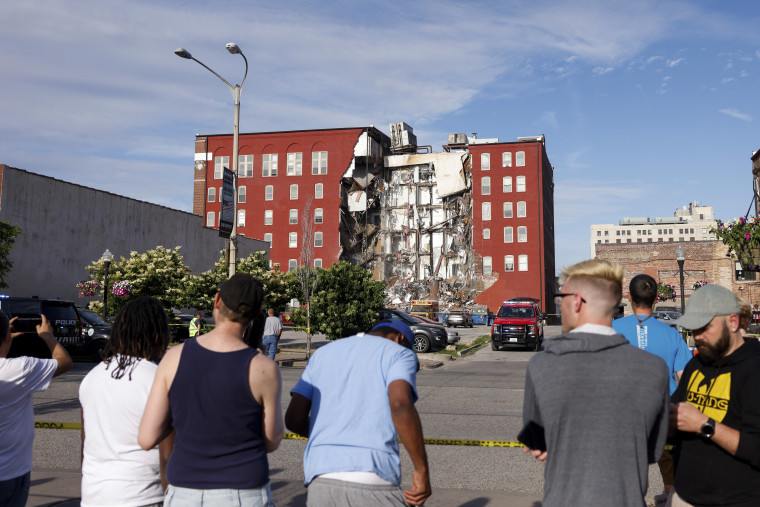 In addition to seven rescues, more than a dozen people were helped by first responders as they left the building, he said. So far, all had been treated on site, Carlsten said, indicating relatively minor injuries.
But officials didn't rule out possible deaths. "There are people unaccounted for," Mayor Mike Matson said.
The cause of the collapse was under investigation. City structural experts were expected to examine the building, Matson said. It's not clear whether residents, who were evacuated and being helped by the Red Cross, would be able to return.
"We're not actually sure how stable the building is," Carlsten said. "Even while we are on scene we did have multiple secondary drops of debris coming from that structure." 
The building is constructed of brick over steel and concrete, according to the city's public library.
Rich Oswald, the city's director of development and neighborhood services, said the property's ownership had "permit issues" for exterior brick work. In addition, he said, the owners were under city orders to make specific repairs and upgrades.
Reports of bricks falling in recent days were related to that work, he said. The condition of the building in downtown Davenport was the subject of numerous resident complaints, officials acknowledged at the news conference.
"The tenants of this building are pretty active," Oswald said. "They've called the city numerous times with complaints."
Ownership of the building couldn't immediately be determined. City documents show that entities called 324 Main Street Project and the Davenport Project have long planned improvements to the building while seeking tax breaks.
The building, in the Cork Hill District, was completed in 1907 and was home to the Davenport Hotel, the city's finest accommodations at the time. The building is listed on the National Register of Historic Places.
Michelle Acevedo and Tavleen Tarrant contributed.