Had it been for Friday night's Game 1 miracle, the Texas Rangers would be on the road facing a 2-0 deficit.
But in any case, the momentum is in the hands of the Arizona Diamondbacks.
The snakes chipped and manufactured their way to a 9-1 win in Game 2 of the World Series on Saturday.
CLICK HERE FOR MORE SPORTS COVERAGE ON FOXNEWS.COM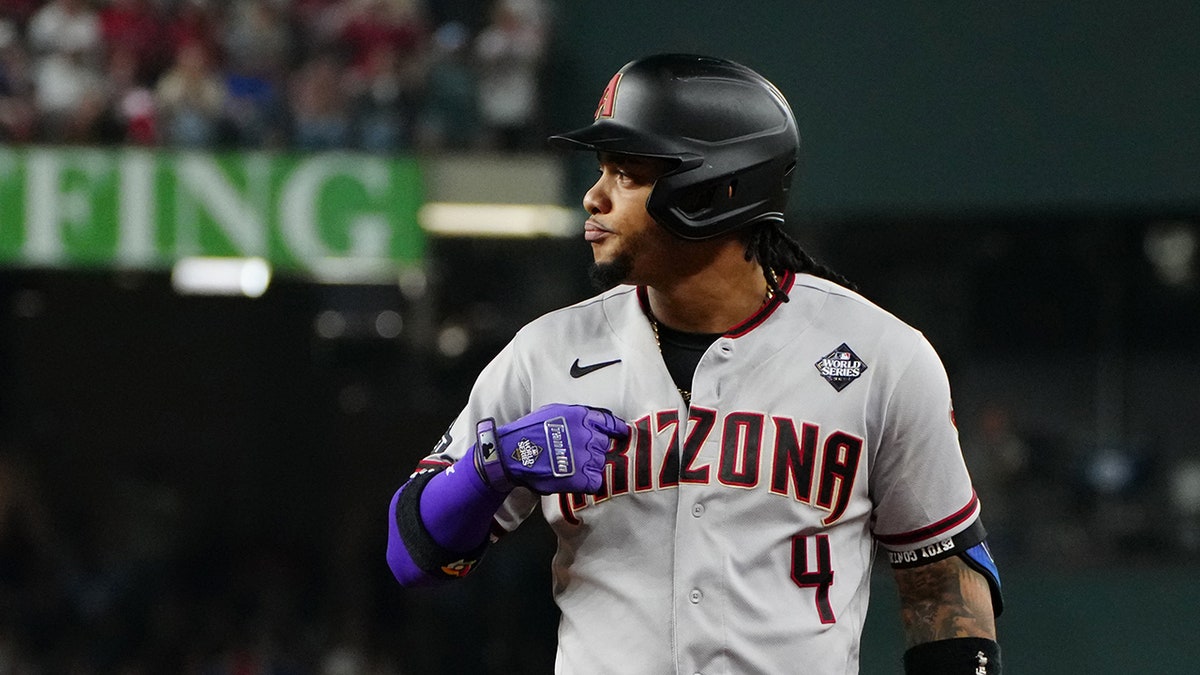 The Diamondbacks struck first with a solo homer by Gabi Moreno in the fourth inning. Later on, Lourdes Gurriel Jr. hit an RBI single. Texas answered back with a solo homer by Mitch Garver in the fifth, but in the seventh, Arizona got it back after leading off the inning with back-to-back doubles off Jordan Montgomery, which resulted in his exit from the game. Two batters later, Corbin Carroll added an RBI single, that run also being charged to Montgomery, to make it a three-run lead.
With the bases loaded in the eighth, Ketel Marte, who entered the at-bat 0-for-4 on the night, set an MLB record, extending his postseason hitting streak to 18 games. The previous record had been 17 straight games, shared by Manny Ramirez, Derek Jeter, and Hank Bauer. Marte has also only played in 18 postseason games, meaning he has a hit in every postseason game he's ever played. 
He drove in two runs in the process, making it a 6-1 game, and Carroll singled in another run immediately after. The snakes added two more runs in the ninth, totaling seven runs in the final three frames.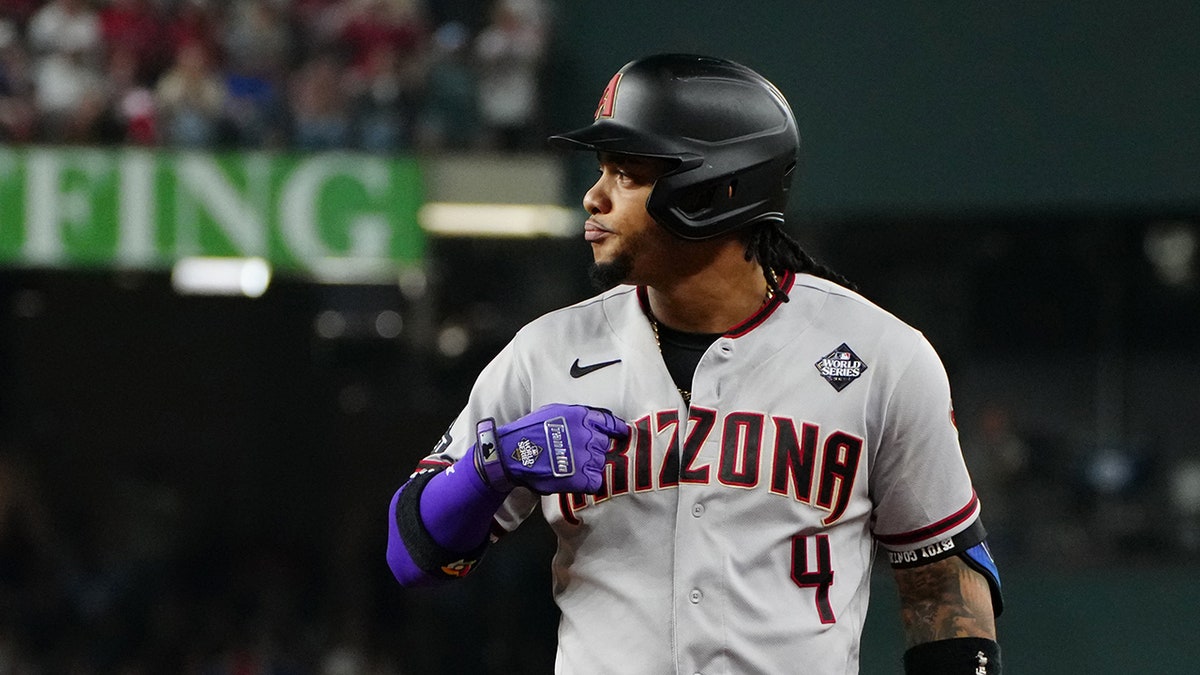 MLB WILL DISCUSS PLAYOFF FORMAT; NO WHOLESALE CHANGES SET FOR NEAR FUTURE, COMMISH SAYS
Merill Kelly spun a gem, tossing seven frames while allowing just the one run in the fifth. He struck out nine while allowing just three hits and didn't walk anybody. He lowered his postseason ERA to 2.25.
Montgomery tossed six-plus innings of four-run, nine-hit ball. The lefty had been a rock throughout the entire postseason, entering the night with a 2.16 ERA in four postseason starts. However, some writing was on the wall, as opponents had hit .277 off him in those outings. Plus, perhaps throwing 45 pitches in Game 7 of the ALCS on two-day rest had its after-effects – he didn't strike out a single batter. In fact, he only produced one swing-and-miss on the night.
Everyone in the D-Backs' startling lineup had at least one hit – they had 16 on the night, compared to Texas' four.
Tommy Pham went 4-for-4 with two doubles, while Carroll, Marte, and Emmanuel Rivera each had two RBI.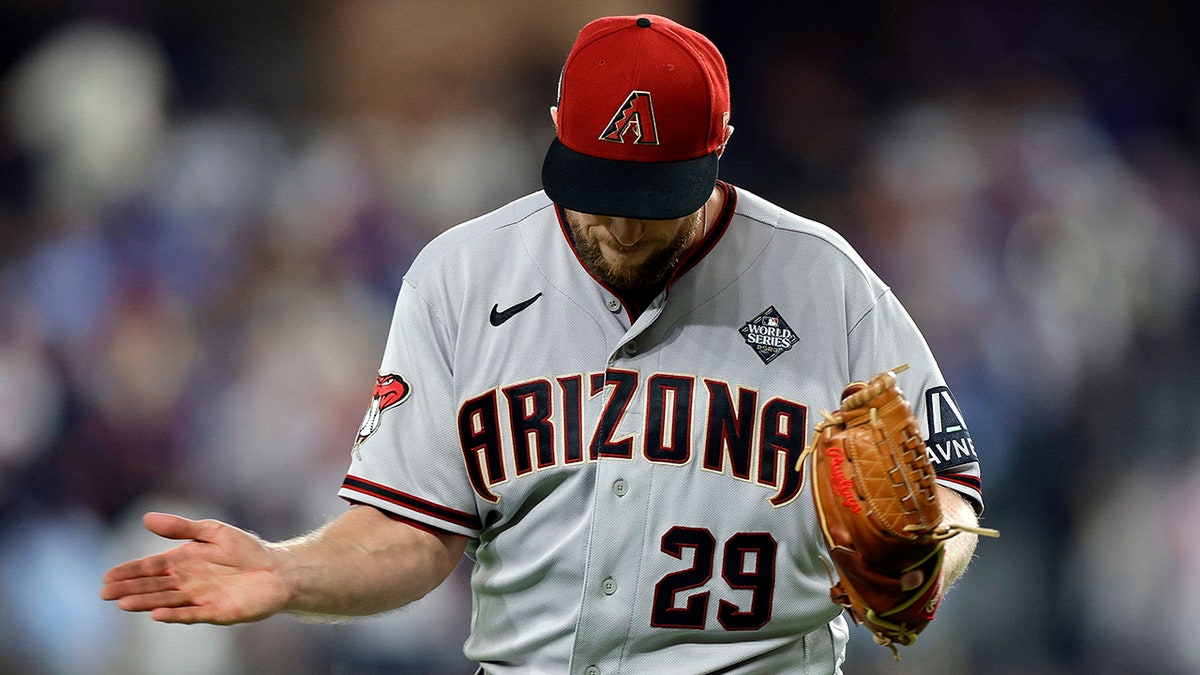 CLICK HERE TO GET THE FOX NEWS APP
Chase Field will host its first World Series game since Game 7 of the 2001 World Series on Monday night. Rookie Brandon Pfaadt will look to stay hot for Arizona, while three-time Cy Young Award winner Max Scherzer will look to get hot after a slow return from injury.