Three Palestinian militants were killed after opening fire on Israeli troops near the West Bank city of Nablus on Sunday, according to the Israeli Defense Forces. 
Another armed gunman surrendered himself to Israeli troops and was transferred to security personnel for questioning, the IDF said. Three M-16 rifles, a handgun, and ammunition were confiscated after the shooting.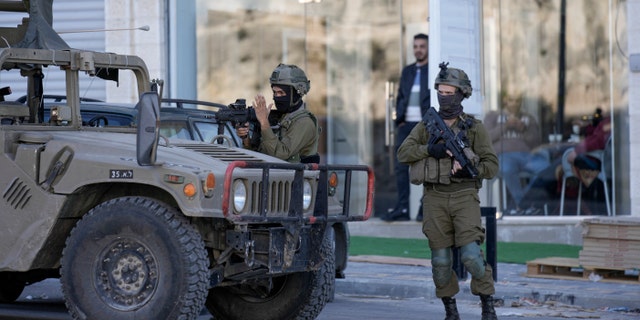 The Palestinian militants were members of the Al-Aqsa Martyrs Brigade, a militant group connected to Palestinian President Mahmoud Abbas' Fatah party, according to the Associated Press. 
ISRAELIS AND PALESTINIANS HAVE BEEN HOLDING SECRET TALKS FOR WEEKS: REPORT
The gunmen opened fire at an Israeli military post near Nablus, one of many cities in the West Bank and Israel that has seen escalating violence in recent months. Eleven Palestinians were killed during an Israeli raid targeting three members of the Lion's Den terrorist group on Feb. 22. 
A Palestinian gunman shot and killed two Israeli brothers on Feb. 26 near Har Bracha, a West Bank settlement about one mile south of Nablus. 
ISRAEL ATTACKS IRANIAN TARGETS IN SYRIA AS SHADOW WAR HEATS UP BETWEEN THE TWO ADVERSARIES: REPORT
One day later, a 27-year-old U.S.-Israeli dual-national was shot and killed in the West Bank city of Jerico. Three Palestinian suspects were arrested days later during an IDF raid.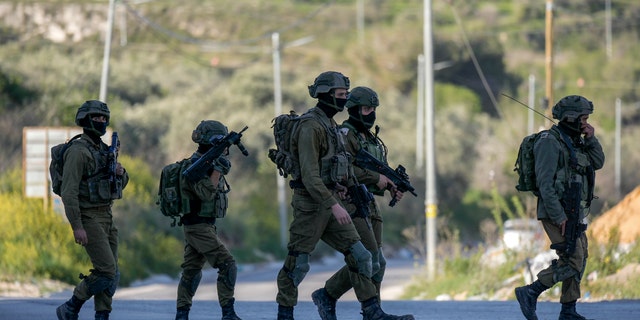 Defense Secretary Lloyd Austin traveled to Israel this week to meet with Israeli Prime Minister Benjamin Netanyahu amid the increased tensions. 
"Secretary Austin offered condolences to the Prime Minister for the recent victims of terrorism and reaffirmed his commitment to Israel's right to defend itself against such attacks," the Pentagon said on Friday. 
"The Secretary emphasized the importance of implementing commitments made by Israeli and Palestinian senior officials in Aqaba, Jordan on February 26, and urged immediate steps to de-escalate violence and work towards a just and lasting peace."
CLICK HERE TO GET THE FOX NEWS APP
Austin was referring to a meeting between Jordanian, Egyptian, U.S., Israeli, and Palestinian officials in Aqaba, Jordan. Representatives from those five groups released a joint statement after the Feb. 26 meeting saying that they "reaffirmed the necessity of committing to de-escalation on the ground."