New York Jets fans have been calling for Zach Wilson to be shipped out of town, but head coach Robert Saleh has consistently stood up for his quarterback in news conferences despite the bad performances since taking over for Aaron Rodgers. 
However, while Saleh will not be jumping the gun and benching Wilson yet, he did acknowledge what Jets fans have been saying for weeks now. 
"We all acknowledge he has to play better," he said on Wednesday. "We all acknowledge that. He acknowledges it, teammates acknowledge it, he acknowledges it himself, but the key is to have confidence in yourself. You have to."
CLICK HERE FOR MORE SPORTS COVERAGE ON FOXNEWS.COM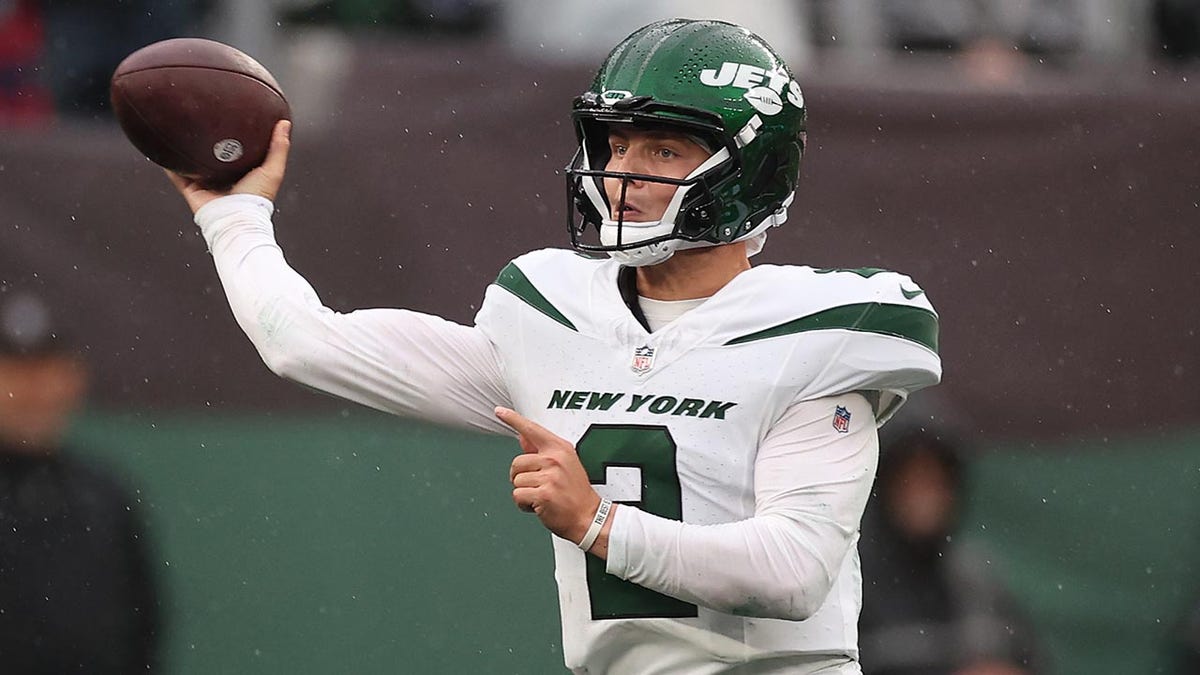 This is a different tone from Saleh, who defended Wilson following his Jets' 15-10 loss on Sunday to the New England Patriots. 
Saleh praised Wilson's preparation leading up to these past two gamedays, but the results are not showing on the box score. 
"As long as he continues to show in his preparation, the way he's been practicing and even in these games, guys," Saleh explained Monday. "He's not the reason we lost yesterday. It's always a team effort. As long as he continues to show improvement, and I know from a box score standpoint it's not showing, he's going to be our quarterback."
AARON RODGERS CALLS OUT JETS' OFFENSE OVER SIDELINE SPATS: 'WE NEED TO HOLD OUR POISE A LITTLE BETTER
Jets fans slung boos Wilson's way on Sunday at MetLife Stadium when New York had a great opportunity to take the lead in the fourth quarter when they were on their own 45-yard line with two timeouts and down five to their AFC East rival.
However, three incompletions led to a two-yard throw to tight end Tyler Conklin on fourth-and-10, which Jets fans could not believe. 
There have been various reports since then that a rift is being creating in the locker room over Wilson's play since Rodgers went down with a torn ACL. The Jets knew since that moment that the Super Bowl might not be in the cards, but the team's identity is very much unknown now with Rodgers sidelined.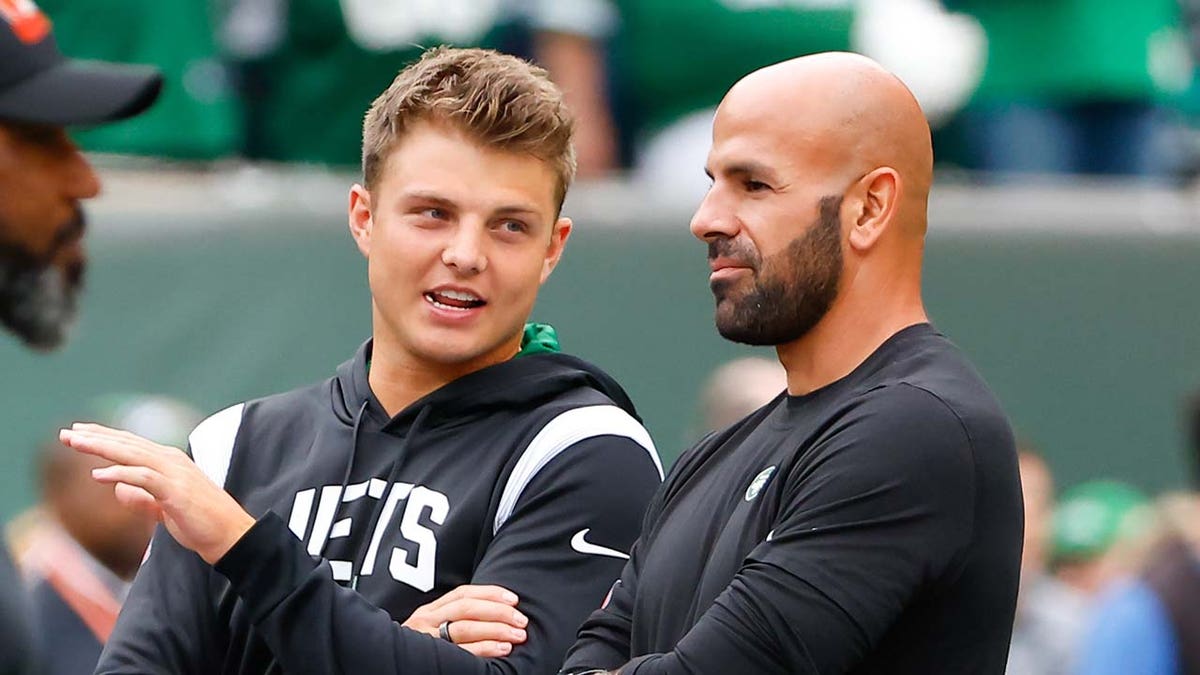 The four-time MVP did allude to being present for the Jets' matchup with the Kansas City Chiefs on Sunday night during his weekly "The Pat McAfee Show" appearance on Tuesday. He also said that the Jets need to grow up after a viral spat on the sidelines was shown to him. 
The Jets are trying to avoid disarray this early in the season, and though Saleh is a great leader of men, it is hard to lead when losing continues to happen. However, Patrick Mahomes, Travis Kelce and the rest of the Chiefs' juggernaut are heavily favored to push the Jets' losing streak to three straight games. 
The Jets know they have a great defense, which was showcased when they allowed just three points to the Patriots in the second half (Wilson took a safety in the fourth quarter). So Wilson's play at MetLife Stadium will be the determining factor in this being a close game worthy of its national TV slot, or a blowout reminiscent of the Dallas Cowboys' 30-10 rout.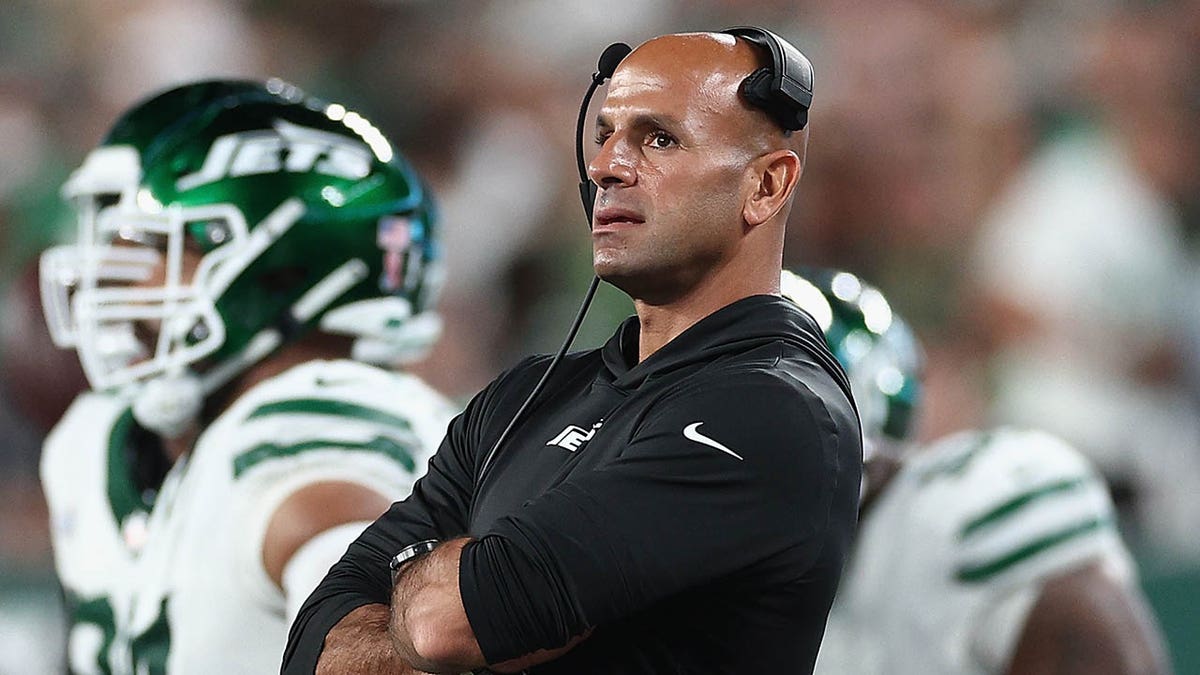 CLICK HERE TO GET THE FOX NEWS APP
However, that is nothing new for the Jets, and Saleh is the last person to publicly say it: Wilson needs to play better. And everyone at One Jets Drive hopes progress starts Sunday night.