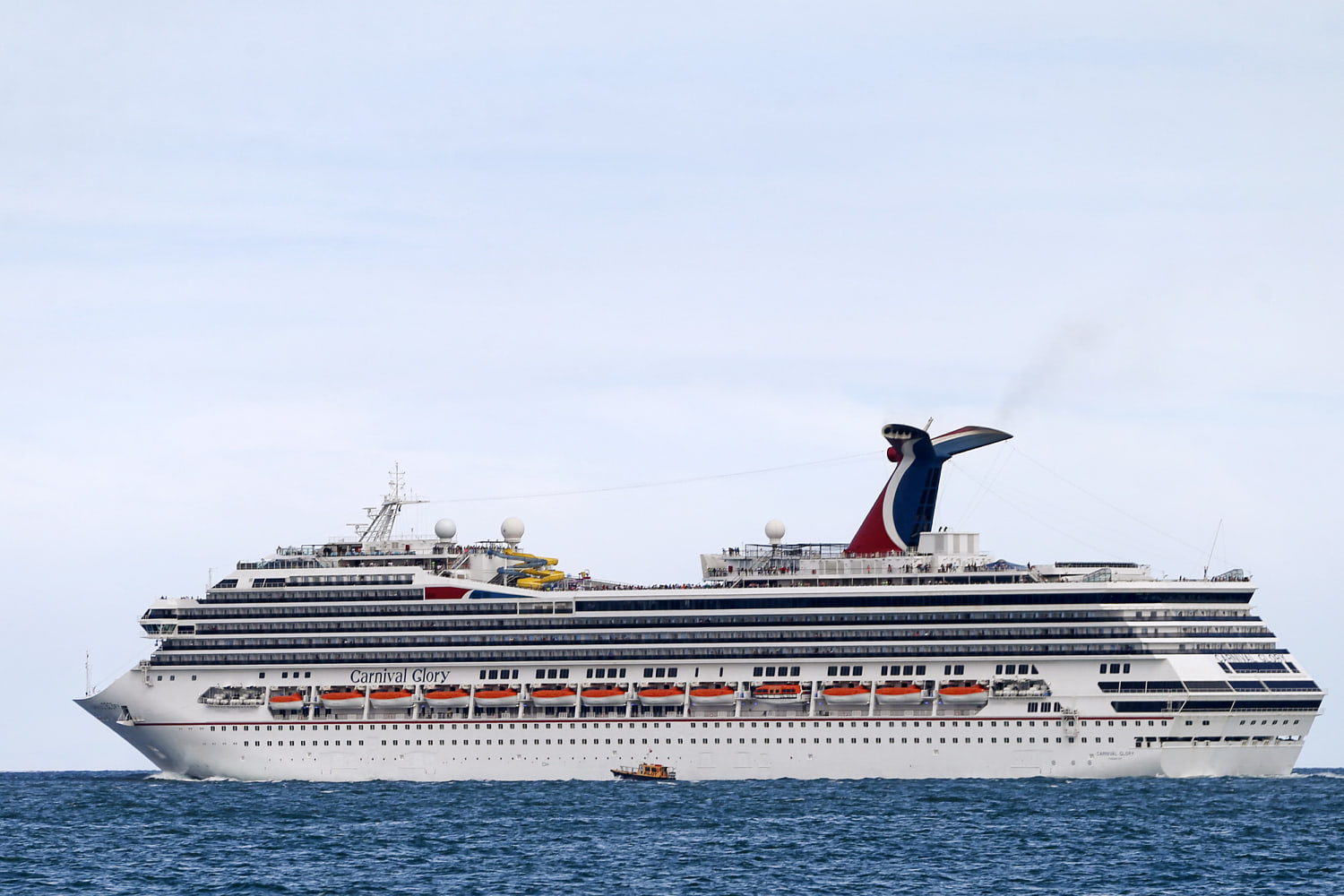 The New Orleans Coast Guard is searching a 200 mile area for a man that went missing on Monday from a Louisiana cruise ship bound for Montego Bay, Jamaica.
The 8th District Coast Guard in New Orleans received a report that a 28-year-old male passenger was missing from the Carnival Glory cruise ship on Monday afternoon, after ship crews could not locate him aboard. Two aircraft were launched to conduct searches, following the ship's track toward Jamaica.
The passenger's family identified the missing man as Tyler Barnett from Houma, Louisiana, who is the father of twin girls. His grandmother, Dirlean Tate Mason, said Barnett was on the cruise with his sister, uncle, and several other family members for a vacation. Coast Guard Third Class Petty Officer Anthony Randisi confirmed the passenger's name.
Security teams onboard the cruise began looking for Barnett after being alerted by his family on Monday morning, said Matt Lupoli, a spokesperson for the Carnival Cruise Line.
"Our Care Team is supporting the missing guest's family on board," said Lupoli.
Randisi said Barnett was last seen on security cameras just after midnight on Monday, after the Carnival Glory left its port in New Orleans on Sunday, but before it was scheduled to dock in Montego Bay on Wednesday.
Mason, who is not onboard the ship but has been in contact with her family members there, said Barnett's card was last used at the cruise's casino, then later at his cabin door. His cell phone was in his room and his bed was not slept in.
"It just seems odd to me that there's no camera, as many cameras as they say they have," said Mason. "I had paced the floor and cried all day yesterday. I just want answers and I'm holding out for hope."
She said Barnett works on the river barges in Louisiana, and does not think he would try to take his own life. "He loves his girls," she added.
Lupoli said the Carnival Glory was cleared by the Coast Guard to proceed to Montego Bay. The cruise is also scheduled to stop at Grand Cayman Island on Thursday, and Cozumel, Mexico, on Friday before returning to New Orleans on Nov. 19, according to its itinerary.
The Coast Guard issued broadcasts to mariners in the Gulf of Mexico notifying them that a person had potentially fallen overboard, said Randisi.
In a post on X, the Coast Guard said search efforts were temporarily paused on Monday night due to dangerous weather conditions, including rough seas and strong winds. They said they would launch additional search assets as soon as the conditions allowed it.
According to data from cruise industry consultancy firm GP Wild, there were 212 man overboard incidents on cruise ships between 2009 and 2019. Forty-eight of those passengers were rescued.
In April this year, Coast Guard crews suspended a search for an Australian passenger who fell off a cruise on the coast of Hawaii after a three day search yielded no results.